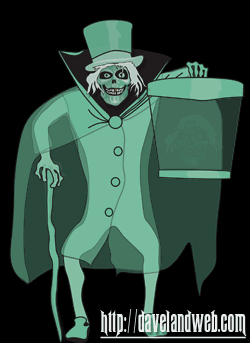 Ballroom trivia: During summer 1974 somebody fired off multiple rounds using a firearm within the park. Two confirmed gunshots struck both the Haunted Mansion ballroom glass wall and a snowflake on Adventure Thru Inner Space. A third hole was found in the Primeval World diorama. Later investigtation by Anaheim Police determined the holes to be .22 caliber with bullet fragments matching between the holes. The Haunted Mansion Ballroom glass was so large that the roof of the building would have had to be removed/destroyed to replace them. Instead, Disney covered up the hole in the glass by disguising it as a spider web and placed a fake spider right over the the hole. You can view it just after leaving Madame Leota's seance room.
The Hatbox Ghost was a figure located in the attic that was removed either during the preview stage or shortly after opening. The figure's head was supposed to disappear and reappear in the hatbox. At the time, the effect did not really work very well and was unconvincing, thus, it was quickly removed. Rumors abounded for years that the Hatbox Ghost was being returned to the Mansion and FINALLY it happened on Saturday, May 9, 2015.
Did You Know?...
Paul Frees, who also voiced Ludwig Von Drake and most of the Pirates of the Caribbean characters, provided the voice of the Ghost Host? The broken singing bust was voiced by Thurl Ravenscroft, best known as the voice of Tony the Tiger. Eleanor Audley, voice of Maleficent and Cinderella's stepmother, was the voice of Madam Leota. Leota's face (as well as both face and voice of "Little Leota" at the attraction's end) was Leota Toombs, a longtime Imagineer whose daughter, Kim Irvine, is a current Art Director with WDI's Disneyland Design Studio.Due to an oversight, the dancers in the ballroom dance BACKWARDS? If you look closely, you'll discover that the women lead!
The human-body-as-architecture elements were originally designed for a never-built part of the Haunted Mansion called "Museum of the Weird"? Some examples are skull-like wainscoting in the changing portrait gallery and door frames, the face-like patterns hidden everywhere, and the bony-arm candelabras in the unload area. And have you ever noticed that the face of the clock striking 13 rests in the mouth of a beast--eyes above, gnarled feet below, and a barbed tail for a pendulum?
The Haunted Mansion is the only attraction to be in a different Land in each of the four classic Disney Theme Parks? It's in New Orleans Square here, in Liberty Square at Walt Disney World, Fantasyland at Tokyo Disneyland, and Frontierland at Disneyland Paris (where it was also renamed Phantom Manor).
Prices for high quality photo prints of the images on my site can be found on my main Photography page. The social media buttons below will help you connect to Daveland for more creativity & fun!