Santa Ana/Orange County
BACKSTORY: From Wikipedia: Orange County is a county in the U.S. state of California. Its county seat is Santa Ana. As of the 2010 census, its population was 3,010,232, making it the third most populous county in California, behind Los Angeles County and San Diego County and the second most populous in the Greater Los Angeles Area after Los Angeles County It is the sixth most populous county in the United States as of 2009 while at the same time is the smallest area-wise county in Southern California, being roughly half the size of the next smallest county, Ventura. The county is famous for its tourism, as the home of such attractions as Disneyland and Knott's Berry Farm, as well as several beaches along its more than 40 miles of coastline. It is known for its affluence and political conservatism – a 2005 academic study listed three Orange County cities as being among America's 25 "most conservative," making it one of two counties in the country containing more than one such city (Maricopa County, Arizona also has three cities on the list).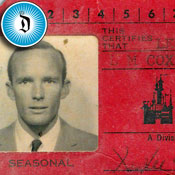 Those of you who are familiar with my Disneyland pages might recognize contributor Cox Pilot, who once worked in Tomorrowland at the Flight Circle. He was gracious enough to send his memories of the Pacific Electric Trolley, also known as the Red Car system, which was a privately owned mass transit system in Southern California consisting of electrically powered streetcars, light rail, and buses and was the largest electric railway system in the world in the 1920s. Organized around the city centers of Los Angeles and San Bernardino, it connected cities in Los Angeles County, Orange County, San Bernardino County and Riverside County. Here is Cox Pilot's story:
The photo at right was taken at the Red Car Depot on East 4th Street (approximately the 500 block). There are condos there now. I remember it well because the building had a curved frontage to accommodate the curve in the track as it entered. Also; the car place was once a paint shop where my first car got a new color. Later, after the Red Car was gone, it became the bus depot.