Inside the cab/tender
BACKSTORY: From Sam Gennawey:
Ever wonder what it would be like to run a live steam locomotive like the ones that power the Disneyland Railroad? A relatively unknown Disney perk (subject to change at anytime) can get you very close to that experience when you see Engine 1 or Engine 2 running. If the conditions are right, you and one guest might be able to score a ride on the tender car. This special seat puts you right there in the cab with the folks running the train.
A confession. I am a train freak. Love 'em. You can say I have "high iron" in my blood. If you don't own Steve DeGaetano's Welcome aboard the Disneyland Railroad and Michael Broggie's Walt Disney's Railroad Story then what are you waiting for? You said you were a Disney fan.
The C.K. Holliday (Engine 1) and the E.P. Ripley (Engine 2) are the two original steam locomotives built specifically for Disneyland. For many years, Disneyland didn't even own the trains. Instead, they were owned and operated by a separate company owned by Walt Disney called Reltaw (Retlaw was Walter spelled backwards). One benefit for Walt by this arrangement, according to Michael Broggie, was his ability to "put on his bib overalls and kerchief, and go wait for the next train. When the train arrived, [Walt] would climb into the cab and tell the engineer that he was on break." Since everybody at Retlaw was on Walt's own payroll they did as the boss told them.
The steam locomotives are one of the defining features of the Magic Kingdom parks. I would argue that Disneyland wouldn't exist if it were not for these two trains. Walt owned a 1/8-scale live steam locomotive called the Lilly Belle and ran it in his backyard in Holmby Hills. According to Broggie, Walt learned a couple of lessons with his backyard railroad, the Carolwood Pacific. First, there is just something about steam trains that fascinates children and adults.
Second, Walt learned how an earthen berm around his property could screen visual intrusions. A berm is a narrow ledge or shelf generally made of dirt with the top or bottom of a slope planted with trees and plants to control a view. Along the top edge is a dense layer of plant materials. As Walt told his daughter Diane, "I built that bank up on the canyon so when I was down there playing with my trains, my neighbors wouldn't be annoyed." An earthen berm is another defining feature of the Magic Kingdom parks. A berm is what prevents the real world from intruding into Disneyland.
Engine 1, the C.K. Holliday (4-4-0 America – 5/8ths scale) is somewhat based on the Lilly Belle, Walt's backyard 1/8th scale locomotive. That locomotive is based on a famous Central Pacific Steam Locomotive that you can see in Sacramento, California. Since this would be a rural train, it was fueled by wood. The wide smokestack was able to catch embers. Engine 2, the E.P. Ripley is a replica of a coal-burning 4-4-0 American with its narrow smokestack. Here is some guilt free news. Today all of the Disneyland trains are run on bio-diesel (including French-fry oil).
Both locomotives are named after former Atchison, Topeka & Santa Fe Railroad presidents. Originally, the C.K. Holliday only stopped at the Frontierland station and the rolling stock was cattle cars. The E.P. Ripley only stopped at the Main Street Station.
For me, my favorite may have to be E.P. Ripley because this was the locomotive that Walt guided into the Main Street station on the opening day broadcast. The expression on his face reveals a man having the time of his life.
The tender car holds the fuel and water for the locomotive and is usually not an attractive place to be. But the C.K. Holliday and the E.P. Ripley were purpose built as pleasure trains and there is a place for guests. The other three Disneyland Baldwin locomotives were built for business and do not have such a perk.
The little bench seat fits two guests. You do not get to hear the spiel, but who cares. Due to the diminutive scale of the locomotives, you feel like you are inside the cab. This is one of my favorite things to do and I save it for very special occasions.
How do you get to ride the tender car? Keep in mind, Disneyland can turn the program on and off and has done so. The best way is to very politely ask the Cast Member working the Main Street station and have a lot of patience. You may have to wait for a long period of time. There are four reasons they will not allow you ride:
•They need to refill the water tank to feed the boiler.
•They need to blow down the boiler. This is a process whereby they remove the sediments that build up in the boiler. You can watch this process happen frequently at the New Orleans Square station. Sometimes they will do this at the Tomorrowland station as well.
•They are changing crews.
•The Cast Member just doesn't want to deal with it at that time.
If you get the green light, it may still take a few passes. This gives you a good chance to soak up the exhibits in the train station. Once your train has arrived, you will bypass the regular line and push pass the little gate leading to the locomotive. Watch your head, as the roof is very low. Step up on the metal plates and take a seat. They have one of those little plastic seatbelts you must wear.
This perk is for a round trip only. You cannot exit early. Soon you will note how cozy the space is and how close you are to the Engineer, Fireman, and the boiler. You are just behind the locomotive and the floor plates of the tender and locomotive move independently beneath your feet. It can get very hot in here. You are right up against the firebox. The fireman can teach you about the water meter and proper water levels. You get a real sense of the power of steam.
It is a very different experience because you are sitting with no cover over your head. The Grand Canyon and Primeval World dioramas take on a whole new meaning as you feel the shed surrounding you.
The Cast Members operating the train are some of the friendliest in the park. They are always glad to answer questions and help you to understand how this machine lives and breathes. The amount of tweaking done by the fireman is always a surprise. You will learn that a steam engine is a very complex machine each position requires a lot of training. I understand a minimum of 200 hours just to be fireman.
The crews have told me that locomotives are very finicky and have personalities. It is fun to hear the debate between crewmembers as to each engines positive and negative traits.
If you get the chance to take a ride on the tender car you will be glad you did. I know what job I want when I retire…
Interested in Walt and his railroad(s)? Check out carolwood.org.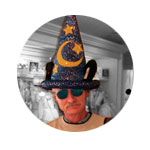 I was really interested in trains and such, and because of that fascination, I got to meet Ollie Johnston and Ward Kimball. Ollie lived out in La Canada and I had sent him a letter discussing live steam locomotives. He was having a birthday party and invited me out to see his backyard railroad. Well, I drove out and he and a bunch of his friends and family were there riding around on his little railroad. He was a great person; very friendly. He even invited me out to Julian, near San Diego, to ride his 2' gauge locomotive. I never had the chance to do that one; didn't have the time, but i happened to mention that I had seen Ollie's railroad to Ken Kohler. He smiled and said that Ollie had contacted him to help with something on his locomotive. He told me Ollie jumped into the cab of the locomotive and proceeded to run it up and down the line of track he had on his Julian property. Now, Ken worked at Disneyland and trains and monorails were what he worked on, and he oversaw their repair. But to spend time going up and down the line on a flat car was not what he found exciting. He would have rather been having a drink at his vacation house in Bullhead City, on the Colorado River. But Ollie was having a great time.
I also contacted Ward Kimball and asked to see his railroad. I first wrote to him and discussed my interest in steam locomotives and he wrote back inviting me over to see his railroad collection. I asked if it was alright to bring my wife and kids and he enthusiastically answered "yes." We came out on a saturday morning and he met us at his front door. He smiled and said to go around the back to the garage and see his 2.5' gauge steam locomotive, Chloe, in the garage. There were tracks leading from the backyard garage up along his house to the front curb; probably about 800'. He came out and explained that certain times of the year he would fire it up and run it up and down the tracks; I'm sure the neighbors loved the noise from the hissing and belching steam locomotive. After viewing his outside train collection we went inside and got to view his real passion: Lionel and Tin Plate toy trains. He must've had everything that Marx and Lionel had produced in the 30's and 40's. There were boxes everywhere! There were even boxes of Toy Trains that had never been opened—I'm talking about trains that were in boxes made of wood with gleaming locomotives still in their wrappers! Most were 30-40 years old. He explained that some people would buy their child a train for their birthday or Christmas. In a few instances, the child got sick and died and the parents left the toy in the closet, never to be opened. Quite a collection. I have to say that Ward was truly another wonderful person. Friends of mine who knew him said he was very eccentric, but i didn't see that. These two guys that worked for Walt Disney, each holding a passion for trains and such, were truly creative individuals that shaped our world through their artistic abilities. I'm sure Walt could see that in all of his 9 old men, as his animators were called later in life. I'm proud to have met them.