Fireworks
BACKSTORY (1958—Present): Edited from Wikipedia:
Elaborate fireworks shows synchronized with Disney songs and often have appearances from Tinker Bell or Dumbo, flying in the sky above Sleeping Beauty Castle. Since 2000, presentations have become more elaborate, featuring new pyrotechnics, launch techniques and story lines. In 2004, Disneyland introduced a new air launch pyrotechnics system, reducing ground level smoke and noise and decreasing negative environmental impacts.
Regular fireworks shows:
1958–1999: Fantasy in the Sky
2000–2004: Believe... There's Magic in the Stars
2004–2005: Imagine... A Fantasy in the Sky
2005 – present: Remember... Dreams Come True
Special fireworks shows:
June 12, 2009 – September 20, 2009: Magical: An Exploding Celebration In The Sky
September 25, 2009 – November 1, 2009: Halloween Screams
November 12, 2010 – January 2, 2011: Believe... In Holiday Magic
Since 2009, Disneyland has moved to a rotating repertoire of firework spectaculars.

Yearly fireworks repertoire
Late winter/spring: Remember... Dreams Come True
Summer: Magical: Disney's New Nighttime Spectacular of Magical Celebrations
Independence Day Week: Disney's Celebrate America: A 4th of July Concert in the Sky
Mickey's Halloween Party Exclusive: Halloween Screams
Holiday: Believe... In Holiday Magic
During the holiday season, there is a special fireworks presentation called Believe... In Holiday Magic, which has been running since 2000, except for a hiatus in 2005 during the park's 50th anniversary celebration.
Scheduling of fireworks shows depends on the time of year. During the slower off-season periods, the fireworks are only offered on weekends. During the busier times, Disney offers additional nights. The park offers fireworks nightly during its busy periods, which include Easter/Spring Break, Summer and Christmas time. Disneyland spends about $41,000 per night on the fireworks show. The show is normally offered at 8:45 PM if the park is scheduled to close at 10 pm or later, but shows have started as early as 5:45 pm. A major consideration is weather/winds, especially at higher elevations, which can force the cancellation of the show. The park will usually wait an additional 15 minutes or so to see if the winds die down. Shows, with a few minor exceptions, such as July 4 and New Year's Eve, must finish by 10 pm due to the conditions of the permit issued by the City of Anaheim.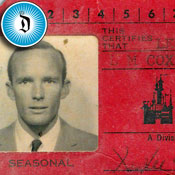 Former Tomorrowland Flight Circle employee Cox Pilot was kind enough to share his memories about Tinker Bell...or rather the lady who portrayed her during the evening fireworks performances:
Tinker Bell began her flights over the Disneyland castle from the top of the Matterhorn in 1961. It's almost always been a real person up there (although they tried a dummy for a short while). The first Tink was a former circus performer in her 70's named Tiny Kline, who originally wanted to hang from her teeth as she did in the circus (Disney would have none of that). The only way to stop her at the end was for her to crash into a mattress behind the berm!
Kline retired in 1964 due to health problems and was replaced by Judy Kaye who was Tinker Bell for another decade. There was even a Mary Poppins for a while.
After marriage and two little girls, we moved to a condo off of East Street in Anaheim. It was our good fortune to be able to see the Disneyland fireworks every night for years. They were nicely centered between two buildings where we lived, and were visible from our yard. We made it a nightly ritual to sit our on lawn chairs to see and hear them. Sweet are the simple things.