BACKSTORY (July 18, 1965 —Present): Created by Walt Disney and his Imagineers for the State of Illinois Pavilion at the 1964/1965 New York World's Fair and featured the world's first fully animated human Audio-Animatronics figure. Kevin Kidney gave me this great tidbit: "The internal plans for Mr. Lincoln's animatronics were drafted by Bob Gurr. He has an original blueprint, and the Disney Family Museum had a copy made. One doesn't immediately think of Bob when it comes to Mr. Lincoln (since his vehicles usually get the spotlight) but Bob designed most of the original Lincoln figure 'workings.'" The show made its Disneyland debut in the Main Street Opera House on July 18, 1965. It featured an incredibly life-like Audio-Animatronic recreation of President Lincoln that recited the Gettysburg Address to amazed guests.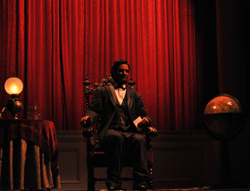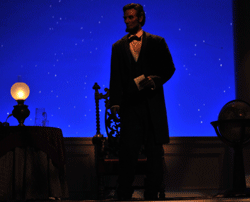 Although removed for the 50th Anniversary (replaced by a film hosted by Steve Martin), Mr. Lincoln is now back (reopened on December 18, 2009) featuring a new head sculpt and more complex Animatronic figure, as well as a pre-show that is more in keeping with the spirit and integrity of the original. The new facial sculpt was done by Lee Romaire. To learn more about the process of refurbishing the Great Moments with Mr. Lincoln attraction, you can read Lee Romaire's interview below.
Click the shopping cart icon below left for details of how to purchase high-quality photographic prints of my work, or click the social media buttons below for more Daveland creativity and fun!