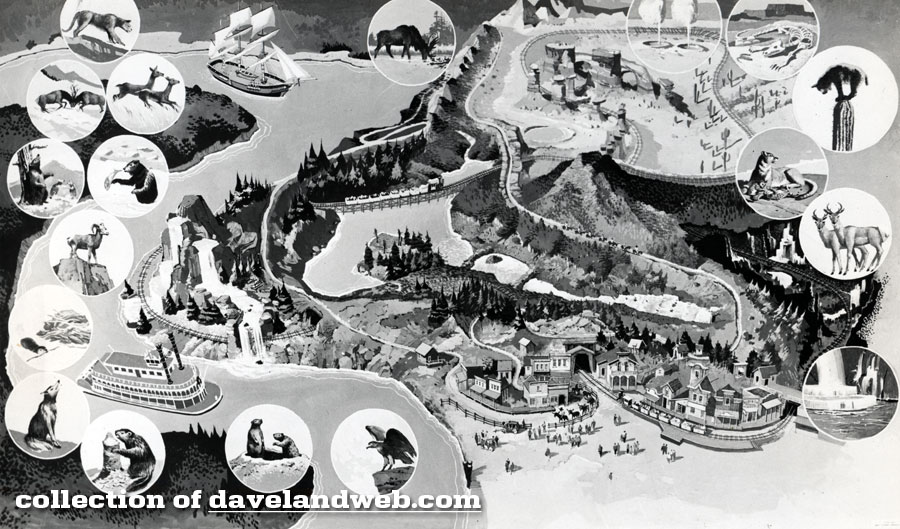 WALT DISNEY'S ARTISTS VISUALIZED THE NEW NATURE'S WONDERLAND IN THIS SPECIAL AERIAL VIEW WHILE CONSTRUCTION WAS STILL IN PROGRESS. YOU MAY TRACE THE RIGHT O'WAY OF THE WESTERN MINE TRAIN AND THE TRAILS OF THE MULE PACK TRAINS FROM THEIR STARTING POINTS AT FRONTIERLAND'S PICTURESQUE RAINBOW RIDGE.
NATURE'S WONDERLAND
Ever watch a beaver gnaw through a small tree?
Ever seen a bear catch a fish with his paws?
Ever passed within a few yards of giant elk locked in combat?


Chances are you haven't…unless you're one of the naturalist-photographers who filmed sequnces for the famed True-Life Adventure Series of motion pictures produced by the Walt Disney Studio…or unless you've been to Disneyland's Summer Specatcular and seen the Magic Kingdom's newest addition: Nature's Wonderland, a seven-acre wildrness preserve populated by a cast of 204 animated and amazingly realistic animials, birds and reptiles.
As the most elaborate and ambitious animation project every attempted, this $1.8 million re-creation of North America's wilderness country represents more than a year and a half of development by Disney art directors and technicians.
Inspired by the "True-Life Adventure" films and grandly imaginative in concept and execution, Nature's Wonderland is a game and wild-life preserve unlike anything else in the world.
Visitors to Disneyland this summer are viewing the activity in this Frontierland adventure from aboard western Mine train, traveling "via the wilderness Route," and sturdy mule pack trains that follow trails blazed by pioneer parties.
They are seeing a faithful re-creation of the forest regions of Wyoming, the deserts of Arizona and New Mexico, mountain terrain of Colorado and many other sections of western wilderness…all populated by the natural inhabitants: an assortment of 50 separate varieties of bird, beast and reptile, representing every specie of animal still roaming the North American continent.
Nature's Wonderland is dominated by Disneyland's second great mountain, "Cascade Peak," visible from almost all Frontierland and easily recognized by the giant waterfalls that plummet from rocky ledges high on its granite slopes.

After passing throught the wilderness country, the Western Mine Train route plunges deep underground to tour long-popular Rainbow Caverns, which have received extensive changes and improvements for this summer's show. New lighting, new creations in color and unusual formations of stalagmites, and stalactites have been added to the seven multi-hued underground waterfalls which cascade into boiling pools.
Those who recall the Walt Disney wild-life films of a few years ago will be pleased to renew old acquaintances in Nature's Wonderland this summer at Disneyland: "Beaver Valley," "Bear Country," "The Living Desert," the "Olympic Elk" among many others, have been given animated life for your enjoyment.