"The Conspirator"
BACKSTORY: These photos were taken in October 2009 and show the filming of "The Conspirator," a movie that takes place during the Civil War. Location shots shown here are from Savannah, Georgia. Principal photography began in October 2009, in Savannah, Georgia and wrapped in December 2009. Fort Pulaski National Monument, located east of Savannah, served as the military prison in the film. Robert Redford was the director of this movie, which starred James McAvoy, Robin Wright, Kevin Kline, Evan Rachel Wood, and Danny Huston, Justin Long, and Tom Wilkinson. During filming of the movie, Justin Long stayed at the Hamilton-Turner Inn with then girlfriend Drew Barrymore. The film lost approximately $10 million at the box office,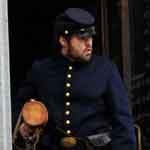 Daveland reader Edwin Hughes was kind enough to do a write-up detailing his experience as an extra on this film:
In the fall of 2009 I had just moved from my college apartment in Auburn, Alabama to the beautiful city of Savannah, Georgia.  While I was looking for a job my mother (without me knowing) sent the film production crew of "The Conspirator" a photo of myself with a beard (they were evidently looking to hire medium height males who could grow facial hair) and they contacted her back saying I could come by and get fitted for a costume. I decided, what the heck? I was not able to find a steady job at this point and my savings were drying up so I went in one day and they asked me if I would be willing to play the background actor role of a Union officer.  At first I was a bit hesitant because my ancestors actually fought for the Confederate Army and I thought this might have them rolling in their graves but I eventually decided to go through with it because it might be fun.
A few weeks after getting fitted for my Union soldier costume, the film called me up and asked if I was available to shoot that weekend. By this point my anticipation had grown a bit and I was eager to see how this whole movie thing went. I showed up to the address given to me by the films crew over the phone and was greeted by the staff and crew. The other extras and I filled out our tax papers because we were eventually to receive checks for our time in the mail.  After signing in and getting dressed we were given makeup to make us looks really grimy and dirty (like we'd been fighting a war for years) and the slicked our hair back with some cream.  As soon as we were done with makeup they scooted us into big white vans and would take us to that days filming location.
The first location I was on was a street scene at night when they were carrying Lincoln's body out of Ford's Theatre across the street to a doctor's house. The first day shooting was a bit surreal because there were all these actors and actresses that you have seen your whole life but they're just standing all around you. That was a bit weird at first but after seeing Justin Long make fun of a guy for asking him for a free Mac I just realized they are just normal people doing their job like us.
The scene in the street was pretty memorable because it was during a pivotal part in the movie and since it was a historical drama we all knew how it was going to end up. From what I remember of this scene, it took us from around 4 pm one afternoon and we didn't get finished until about 9 o'clock the next morning. The Conspirator crew took really good care of us though always giving us really good meals and snack breaks.
The next time the crew called me back we went to film at the real civil war fort Pulaski near Tybee Island.  These days of filming were really fun but tiring because we had to march and sit in the baking sun all day in thick wool costumes.
The day you were taking photos on the steps of the Customs House was my favorite day of filming because they grabbed me and gave me a close up part. Although my close up part never made it into the final cut it was still fun to see myself on the screens they had set up.  My part at first was supposed to be me opening the Customs House (which in the movie was supposed to be the courthouse where they were trying Mary Surratt.) doors and walk in to have Tom Wilkinson and James McAvoy continue their conversation as they came out of the building.  During the first take I walked up to the door  that I was supposed to open only to realize that the door didn't in fact have a handle to open it with, at all. Robert Redford (who people on the set called Bob) yelled cut and they came over to see what was wrong and James McAvoy helped me explain that there was no doorknob, duh. So they moved us all down a door and we did several takes of coming in and coming out of the doors.  The way they had me busting right in-between Wilkinson and McAvoy way really awkward and I can totally see why it didn't make it to the final cut.
All in all I had a lot of fun working as an extra for the film and I would consider trying to work as an extra again someday.